VAN ROEKEL, LLOYD AND ELMA (VAN DE BERG)
Lloyd and Elma (Van De Berg) Van Roekel.now reside at 335 7th Ave. S.E., after farming near Newkirk, IA, for 27 years. Prior to that they lived on the Van Roekel family acreage, where they farmed after Lloyd had served in the armed forces for two years.
Lloyd was born to Albert G. and Cena (Doornwaard) Van Roekel on May 16, 1929. His parents owned a dairy business, Lloyd helped make deliveries throughout the town daily, and sometimes two or three times daily. His father suffered from a heart condition for several years, and when he passed away in 1947, Lloyd farmed for his mother. He graduated from Sioux Center High School in 1948, and was reared in the Central Reformed Church. He has one brother, Gordon.
Elma was born on the farm one mile east of Sioux Center, to Henry R. and Della (Kroon) Van De Berg on May 6, 1932. She attended rural school, Welcome #8, and then graduated from Sioux Center High School. After graduating she worked at Van's Jewelry and then was employed at First National Bank. She has four sisters and three brothers: Verna, Harold, Eldora, Hendrene, Ralph, Wilmer, and Ardith. She was reared in the First Reformed Church.
Lloyd and Elma were married on June 28, 1951. In October of that same year, Lloyd had to sell out and report for two years of military service, all of which was spent at Fort Knox, Kentucky. Elma joined him there in August of 1952.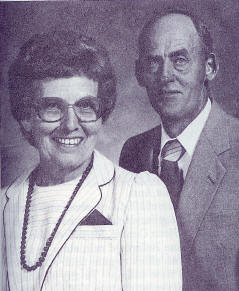 Lloyd and Elma Van Roekel
They have three children; Mark Douglas, Paul Vincent, and Janet Lynn. The children were all born in Sioux Center, they attended and graduated from Floyd Valley High School in Alton, IA and IA State University in Ames, IA.
Mark Douglas Van Roekel was born November 25, 1953, married Brenda De Wild on December 4, 1976. They lived at Fort Dodge, IA, where Mark was a partner in a hog operation, after graduating from IA State University with a degree in Farm Operation and Agriculture Business. Brenda taught school there. In 1988, they moved to the home farm near Newkirk, IA, with their two daughters, Sara Ann and Jessica Mae. Brenda now teaches elementary music in the Boyden Hull Schools.
Paul Vincent Van Roekel was born on December 21, 1955. He graduated from the College of Veterinary Medicine in 1980, and practiced in Wells Minnesota for two years, before joining a practice in Sioux Center. He married Linda Holwerda on November 25, 1988; they live near Sioux Center with their son, Heath. Linda is a surgical nurse at the Sioux Center Community Hospital.
Janet Lynn Van Roekel was born on November 5, 1959. She received her Home Economics degree in 1982. On June 12th of that year, she married Brian Amundson. They reside in Eau Claire, Wisconsin, where Brian is an electrical engineer with Northern States Power. They have two children, Heather Nichole and Eric Bradley.
4-H was an important part of the Van Roekel Family life; all three children ware active in their local clubs, and participated in out-of-state activities; Janet also earned a trip to the National 4-H Congress in Chicago, Lloyd was a club leader of the Floyd Falcons for several years. Elma served as secretary-treasurer for the Sioux County Youth Fair Board from 1969 to 1979.
Lloyd and Elma are members of the Newkirk Reformed Church where Lloyd has been a deacon and is presently serving as an elder.
by Elma R. Van Roekel