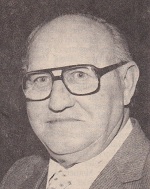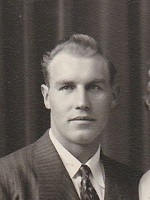 Marion Van Roekel, 70, of Alton died Thursday, May 31, in a hospital In Orange City. Services were Saturday in Alton Reformed Church with the Rev. Raymond Tilstra officiating. Burial was in Nassau Township Cemetery.
Van Roekel was born January 6, 1920, in Sioux Center, the son of William and Mary Van Roekel. He was raised at Maurice and served in the U.S. Army during World War II.
On January 2, 1948, he married Evelyn Jean Berkenpas at Sioux City. The couple farmed in northwest Iowa. He also was employed by Hi-Precision Manufacturing in Orange City from 1968 to 1980. Since 1977 they had lived at Alton.
Van Roekel was a member of Alton Reformed Church and Pressman Kosters American Legion Post of Orange City.
Survivors Include his wife; a daughter and son-in-law, Judi and Larry Neal of Keller, Texas; two sons, Terry and his wife, Nancy of Hinton and Randy of Orange City; a brother, Abe of Maurice; a sister, Nancy Kooima of Rock Valley, and five grandsons.
Sioux Center News 1990-06-06.
---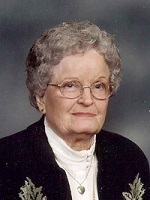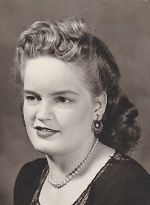 Evelyn Jean Van Roekel, age 79, of Orange City, went to be with her Lord and Savior, Jesus Christ, on Monday, October 13, 2008, at the Heritage House Nursing Home in Orange City.
Funeral services will be on Thursday, October 16, 2:00 pm, at the Alton Reformed Church, officiated by the Rev. Michael Hardeman and the Rev. Elizabeth Hardeman. Interment will follow at the Nassau Township Cemetery near Alton. Visitation will be after 4:00 pm on Wednesday, with the family present from 6:00pm to 8:00pm, at the Oolman Funeral Home in Orange City.
Jean was born on August 20, 1929, at Le Mars, the daughter of Jacob and Albertha (Dambrink) Berkenpas. She was raised in the Seney and Le Mars area and attended country school in Seney and the Le Mars High School.
On January 2, 1948, she married Marion Van Roekel in Sioux City. They farmed mostly in northwest Iowa, moving to Alton in 1977. Marion passed away on May 31, 1990.
In 2001, Mrs. Van Roekel moved to Orange City. She became a resident of the Heritage House on September 29 of this year.
Jean was a member of the Alton Reformed Church, where she had belonged to the Mary Circle. She was also a member of the Floyd American Legion Post Auxiliary in Alton.
She devoted her life to caring for others, from her family to those of all ages, including the very young and the very old.
Jean was known as "Grandma Jean" for several years in Mrs. B.'s first grade classroom at the MOC-FloydValley Elementary School. For forty years (1968-2008), she was employed at the Heritage House, where she served in various capacities, including nursing assistant and the activity director. She was also a volunteer at Hospice and assisted at Dinner Date.
Survivors include her daughter and her husband, Judy and Larry Neal, of Keller, Texas; two sons, Terry Van Roekel, and his wife, Nancy (Freriks), of Hinton; and Randy Van Roekel, of Orange City; five grandchildren and their spouses, Kevin and Katy Neal, of Fort Worth, Texas; Chedea Neal, of Keller; Tom and Liz Van Roekel, of Moville; Andy and April Van Roekel, of Moville; and James and Chelsey Van Roekel, of Merrill; seven great-grandchildren, Karson, Kody, Dalton, James, Jaxsen, Gracie Jean, and Quinn; two expected great-grandchildren; three sisters, Dorothy, and her husband, Paul Hoppe; Edith Renken; and Frances Leonard, all of Le Mars; a brother-in-law, Merlin Singer, of Le Mars; and five sisters-in-law, Anita Berkenpas and Lillian Berkenpas, both of Le Mars; Marge Berkenpas, of Reno, Nevada; Gertie Hoekstra, of Maurice; and Nancy Kooima, of Rock Valley; and a dear friend, Virginia Templeton, of Alton.
In addition to her husband and parents, she was preceded in death by a infant son, Thomas (twin of Terry); a grandson, Richard Neal; six brothers and their wives, Leonard and Dolly Berkenpas, Art and Charlene Berkenpas, Bill Berkenpas, Henry Berkenpas, Raymond Berkenpas, and Norman Berkenpas; and two sisters, Lois Singer and Alice Jennings.
Memorials will be directed to the Activity Department at the Heritage House.
---
Death separated twin boys born Saturday to Mr. and Mrs. Marion Van Roekel at the Community hospital at Sioux Center. One baby [Thomas] died about five hours after it was born. The other [Terry] is getting along well, however. Grave side rites for the deceased infant were held Monday at the Maurice cemetery, with Rev Van Deelen of Rock Valley officiating. Vander Ploeg's Funeral Home was in charge. Mr. and Mrs. Van Roekel live on a farm near Hudson S.D., and she is the former Evelyn Berkenpas of Sioux Center.