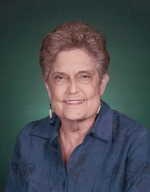 In Memory of Luella Beth Kallie and her mother
Luella Beth Kallie of Mesa passed away on March 11, 2011 in Mesa she was 61 years old. Luella was born on February 10, 1950 in Sioux City, Iowa. She was the daughter of Louis and Ella Ruby Van Roekel. She suffered with asthma all her life. She moved with her family to Arizona in 1962 hoping the drier climate would be better for her health.
She was a graduate of Mesa High Class of 1968 and Grand Canyon College. She enjoyed sharing her love of music by singing, playing the clarinet and bells in her church choirs and orchestra. At the time of her death she was employed by Maricopa County Community College in their District Employee Services Department.
She is survived by her sister Rhonda Reid of Mesa, five nieces and nephews and their families. A memorial will be held in her honor on Tuesday March 22, 2011 at 7:00PM in the Myra Chapel at Trinity Baptist Church, 2130 E University Dr. Mesa AZ.
Here is her mother's obituary information Ella Ruby Van Roekel. Mother and daughter died about two months apart. Feb 19, 1916 - Jan 10, 2011
Ella Ruby Van Roekel of Mesa, passed away on January 10, 2011, she was 94 years young.
Ella Ruby was born on February 19, 1916 in Middleburg, Iowa to Robert and Ella Moret.
She married Louis Van Roekel in 1940 and enjoyed their life together until his death in 1989. She was a loving wife and mother who spent much of her spare time sewing and quilting, she also enjoyed bible study classes and baking, especially her Christmas cookies.
Ella Ruby is survived by her two daughters Luella Kallie of Mesa and Rhonda Reid also of Mesa, five grand children and five great- grand children.
Visitation will be held on Friday, January 14, 2011 from 6:00 to 8:00PM at Falconer Funeral Home, 251 W Juniper Ave, Gilbert, AZ. Funeral Services will be held on Saturday January 15, at 11:00 AM at the Trinity Baptist Church, Myra Chapel, at 2130 E University Dr, Mesa AZ.
Interment Services will be held on Tuesday, January 18, at 10:00 AM at the City of Mesa Cemetery.