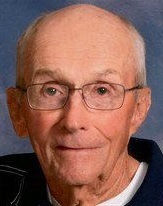 Merritt Van Roekel was born November 22, 1936 in Newton, Iowa, the second son of John A. and Una Dale (North) Van Roekel. He died Wednesday, September 18, 2019, at the Pella Regional Health Center, at the age of 82.
Merritt attended the Pleasant Grove country school until the fourth grade. He finished his schooling and graduated from Monroe High School in 1956. He was active in sports and FFA while in school and after graduation, joined his father in full-time farming.
Merritt was married to his high school sweetheart on September 28, 1957 and together they raised their three sons: Brian, Bradley, and Brent. Merritt was named Jasper County's "Outstanding Young Farmer" in the '60's and enjoyed entering tractor pull competitions where he was a state fair champion in 1965. He was an active member of First Baptist Church and Kiwanis.
Those surviving are his wife of nearly 62 years, Janice, their three children, eight grandchildren, and soon-to-be, four great-grandchildren: Brian and Lori (Smothers) Van Roekel of Grinnell; Emily and Nick Wagner of Grinnell, Cadence Emerie Wagner, Jennings Scott Wagner, Evie Rae Wagner; Daniel and Shelby (Saulsbury) Van Roekel of Tiffin; Maggie and Nathan Halstead of Des Moines; Bradley and Mary Jo (Van Ryswyk) Van Roekel of Monroe; Taylor and Sam Brown and their son arriving in January 2020, all of Nashua; Jordan Van Roekel of Monroe; Brent and Dana (Dixon) Van Roekel of Polk City; Drake and Laura (Ausenhus) Van Roekel of State Center; Drew Van Roekel of Polk City, Derek Van Roekel of Polk City.
Preceding him in death were his brother Bruce, on September 2, 1953, his father on May 19, 1973, and his mother on November 16, 1987.
Funeral Services will be held Sunday, September 22, 2019 at 3:00 pm First Baptist Church, Monroe, Iowa Interment will follow in Silent City Cemetery, Monroe, Iowa
Visitation will begin Saturday after 2:00 pm at the First Baptist Church in Monroe where the family will be present from 4:00 to 7:00 pm
Memorial contributions may be designated for the First Baptist Church in Monroe or the Monroe Fire Department.
[Van Dyk - Duven Funeral Home website]