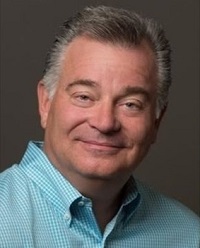 VAN ROEKEL, Mark A., 57, of Richmond, Virginia, passed away on March 23, 2017. Mark is survived by his wife, JoElle Bradley Van Roekel; and their two daughters, Sydney Bralyn and Bradley Ella; his parents, Anthony and Sydney Van Roekel of Frisco, Texas; his sister, Kristen and her husband, Craig Rooker; nephews, Benjamin and Graham Rooker; niece, Katherine Wheeler, all of Austin, Texas; his in-laws, Frank and Carol Bradley; brother-in-law, Ryan Bradley and his wife, Kim; and nephews, Jackson and Ryder Bradley, all of Mechanicsville. Mark is also survived by numerous aunts, uncles, cousins, other family members and special friends.
Mark was born in Iowa on December 29, 1959. Mark grew to be a creative, intelligent, motivated businessman and entrepreneur with a passion for leading-edge technology. He was fun-loving with a kind heart for his wife, daughters, family, friends and dogs. He enjoyed fishing, war gaming, kayaking and camping.
A Celebration of Life will be held at Hope Church, 12445 Patterson Ave. in Richmond on Monday, April 3, 2017, with visitation at 9 a.m., followed by a funeral service at 10 a.m. The family will have a private graveside service at Signal Hill Memorial Park in Hanover.