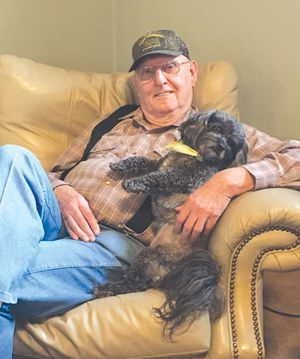 Eugene Van Roekel, of Harrison, formerly of Maurice, Iowa, passed away unexpectedly Tuesday Nov. 22 (2016) in his Arkansas home with his wife of 58 years by his side.
Eugene Elmer was born on March 16, 1937, in Orange City, Iowa, and was the only child of Elmer and Gertrude (Brink) Van Roekel.
He graduated from Maurice High School in 1954 and Northwestern College in 1956. After graduating, he spent two years working as a bookkeeper with Roggen and Ford in Orange City.
On March 29, 1958, he married his high school sweetheart, Darlene Stallbaum, in the Maurice First Reformed Church. The couple moved to his home farm near Maurice, where he spent many years raising cattle and hogs and growing corn. Eugene always sought progressive methods of improving the land and growing his farming business. He truly loved his daily interaction with the livestock and could always be found with his dogs by his side.
In 1990, Eugene and Darlene moved to Orange City, and he spent 10 years working for Agri-Edge in Sioux Center and Kraai Furniture in Orange City.
In 2001, the Van Roekels retired to their current home in Harrison. He was grateful to be able to entrust his land to the competent care of Mark, Rob, and the late Bruce Kuiken. He looked forward to his regular trips to Iowa to survey the progress of their crops and spend time with friends and family.
While living in Arkansas, he enjoyed traveling to bluegrass music festivals and spent many evenings running the sound system for local jam sessions while his wife sang, played mandolin, and fiddled.
As the Midwestern farmer, he was also the man many of his newfound Arkansas friends sought to care for their livestock when they were on vacation or fulfilling other obligations.
He dearly loved and is survived by his wife, Darlene Van Roekel; his children, Paulette (Giovanni) Romano, Steve (Melanie) Van Roekel, Shari (Gregg) Boone, Martin (Marianne) Van Roekel and Julie Krogman; along with two sisters-in-law, Phyllis (Peter) Van Peursem and Marjorie (Dick) Reid; and seven neices and nephews.
He is also survived by the 17 grandchildren whom he adored, Mary and Anna Maassen, Taylor and Garrett Van Roekel, Tyler (Alisa,) Haley, Kiley and Myles Boone, Magdalene, Jonah, Hannah and Eli Van Roekel, Brody and Madeline Krogman, and Cameron, Kendall and Caden Grund. He was also blessed with two adorable great-grandchildren, Rylan and Haden Boone.
He was preceded in death by his parents, Elmer and Gertrude Van Roekel; his parents-in-law, Herman and Mary Stallbaum; and one nephew, Michael Van Peursem.