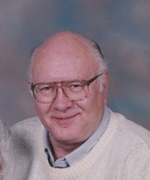 Merlin L. (Ernie) Van Roekel, 74, of Des Moines, passed away peacefully on May 16, 2013. Merlin was born in Orange City, IA to Milton and Alice Van Roekel and married to Cynthia B. Anderson.
Merlin is survived by his loving family, wife Cindy, children Kara Tragesser, Mark (Birgit) Van Roekel, Brian (Irene) Van Roekel, Holly Van Roekel, sister Laura (William) La Grange, brother Roy Van Roekel, four grandchildren, three great grandchildren, favorite cousin Kay Tolman, many cousins, nieces, and nephews, and many long time friends. He will be greatly missed by all.
Funeral service for Merlin will be held at St. Luke's Episcopal Church, 3424 Forest Avenue, Des Moines, May 21, 2013 at 11:00 a.m. with interment at St. Luke's Resurrection Garden immediately following. Memorial contributions may be made to St. Luke's Memorial Fund or to the family for distribution to his preferred recipients.