Blake Van Roekel, BVRDirector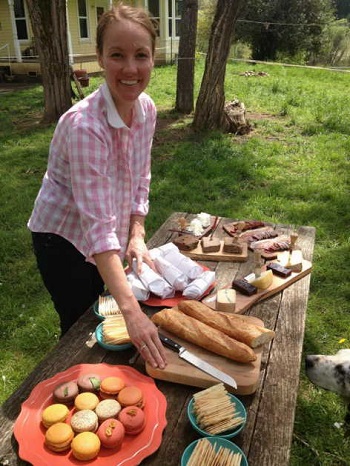 At age 14, Blake Van Roekel wrote her first cookbook. Though it never quite reached the public eye, her passion for food and feeding people stayed true. Subsequent journals that traversed careers in horticulture, arts & event management, and jewelry design always had recipes scribbled in the margins.
In 2007, Blakeís recipes moved from the margins to the center of the page. She graduated from an intensive course in 'culinary heaven' with chef Robert Reynolds, whereupon she launched her company, Keuken, in order to officially cook up a storm. She co-founded the successful and popular Art+Palate Supper Club, 3◊2 with din din and Duff Dinners. Many of her menus are inspired by art and design, literature and music, and environment and community resulting in meals that are thematic and unique to the time and place of the event. Her goal is to introduce greater levels of meaning to the food on our plates by not only stimulating our taste buds, but our emotions and intellect as well. In addition to Keuken, Blake continued to spend over 5 years in the kitchen with Robert Reynolds learning the craft of teaching.
In 2012, Blake helped to facilitate the continuation of The Chef Studio. With the support of fellow instructors and the community, the doors to The Chef Studio remained open to nurture the next the generation of culinary talent. With the passing of friend and founder, Robert Reynolds, the vein of mentorship and culinary education embracing a regional landscape lives on through Good Keuken.
When Blake is not in the kitchen, or taking a break to eat chocolate, she can be found digging in the dirt. She serves on the advisory council of Portland Multnomah Food Policy Council, co-founded Get Dirty Farm Tours aimed at preserving our regionís sustainable farms, and holds a Certificate in Sustainable Business at the Bainbridge Graduate Institute with a Concentration on Food & Agriculture. She also is the consulting chef for Gales Meadow Farm, developing recipes while helping the vegetables grow. She is committed to the earth, her students, and the people she feeds.