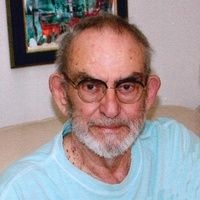 Roger Gene Van Roekel was born June 4, 1937 in Luverne, MN, the son of Harold and Edna (Michelson) Van Roekel. He graduated from Luverne High School in 1955. He joined the United States Navy and served from 1955 to 1959. Roger was united in marriage to Ruth Schnell in 1960. He attended Augustana College, graduating in 1964. He was a teacher in Omaha from 1964 to 1966 before moving to Rock Rapids. He taught and was a substitute teacher for the Rock Rapids School for fifty years. In 1976, Roger's first wife passed away unexpectedly.
On September 30, 1976 Roger was united in marriage to Barbara Lemke.
Roger was very involved with the Jaycees. He served as the President of the local Jaycees, was the State Vice President, and was honored with a life time Jaycee Senator status. He helped start and manage the race track in Rock Rapids with the Jaycee club. Over the years Roger also served as the president of the CLEA (Central Lyon Education Association). He was active in his church as President and Treasurer. Roger was Vice President of the Mural Society in Rock Rapids. His art work can be found in many private collections throughout the United States.
He is survived by his wife Barb; his family Lisa (Kris) Davidson and their children Errika, Steven, Kody, and Tyler Harlee, Errika's children Braxton and Andrew, all of Rock Rapids, IA, Dave Van Roekel and his children, Austin and Aidan of Omaha, NE, Dan (Niki) Van Roekel and their children, Kira and Emily, of Brandon, SD, Patti (Mark) Olinyk and family of Plover, WI, Bob Deeb and family of Minneapolis, MN, Mary (John) Giddings, and family of Sioux Falls, SD, Ted Schnell of Parkston, SD; and other extended family.
Roger is preceded in death by his parents; first wife Ruth; daughter, Paula; son, Eric; infant son, Brad; and sister, Jane Deeb; and other extended family. Praise be to God!
Jurrens Funeral Home
Rock Rapids, Iowa