Deborah J. Van Roekel, age 47, of Council Bluffs, passed away May 12, 2012, at her home, after a courageous battle with cancer.
Deborah was born February 2, 1965, in Omaha, Nebraska, to Lee and Janice (Ford) Marshall. She graduated from Treynor High School in 1983. Deb married Jerry Van Roekel on September 15, 1990, in Council Bluffs, Iowa. They were blessed with two sons, Jacob and Kyle. Deb was a senior processor for IAT Specialty for the past 12 years. She was a member of Saint John Lutheran Church.
She was preceded in death by her father, Lee Marshall; stepfather, Lonnie Mongar; sister, Brenda Reinders and mother-in-law, Maxine Van Roekel.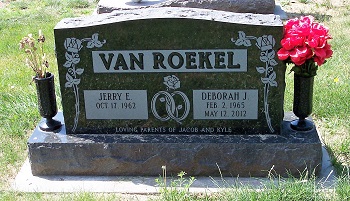 Deb is survived by her husband of 21 years, Jerry Van Roekel; sons, Jacob and Kyle Van Roekel, all of Council Bluffs; mother, Janice Mongar; sisters, Rhonda (Dan) Maurer, all of Omaha, Kim (Terry) Lodes, of Parker, Colorado; stepbrother, Jeff (Penny) Kozal, of Kearney, Nebraska; father-in-law, Abe Van Roekel, of Minden, Iowa; sisters-in-law, Joni (Charlie) Lehan, Texas, Linda (Nick) Campbell, Kansas; brother-in-law, Rick Bryant, of Council Bluffs; nieces, nephews, aunts, uncles, cousins and many friends.
Funeral service was Wednesday at Lutheran Church of the Master, 2617 S. 114th Street, Omaha, Nebraska, with interment at Evergreen Cemetery.