Why this Website
In the course of time I (
Gijsbert van Roekel
) have collected genealogical data about members of the Van Roekel family. The reason was mainly curiosity with respect to my anscestors, who they were, how they lived and where they lived. Part of this collection is published on this website to help other genealogists and also, to receive additional information and corrections!
Finding persons can be done via the alphabetical
list of names
.
NB 1: This genealogy is not ready and possibly never will be. Most of the information offered is checked with primary sources where possible, but before 1700 and after 1900 this is often difficult or even impossible. So much information is unsure and incomplete and checking by yourself is mandatory! Remind that it is a project still under construction.
NB 2: Copying of data is allowed with proper acknowledgement.
---
Contributions
In the last years I received lots of messages about this genealogy, mostly from Holland and the U.S.A, but also from other countries. Thus I collected countless corrections and additions that were all incorporated in this genealogy, of course always with proper reference to the sources. In most cases it was about simple genealogical data like names and dates, but I also received many beautiful old family pictures and stories.
Our hall of fame:
In de USA Deb Groen Emery started the Van Roekel - Van Peursem Family Ancestry Group. This group is open for relatives of Jan Harmsen van Roekel and Peter van Peursem. This group contains much information and pictures about Van Roekels in the USA.
Deb visited the hamlet Roekel op de Veluwe in 2018 and sent me these foto's:

In february 2013 Rijk Ploeg informed me about an old map of the area around the former Harselo castle, dated june 14th 1723 and drawn by mapmaker Elshoff (Gelders Archief Inv. Nr. 1597). On this map you will find at the Rijnsteeg the farm of Jacob Bakker, on the same place where almost 300 years later still some of descendants live.

From a container for old paper came a beautiful album that has been created around 1875 containing 50 very old photographs, among these a number of van Roekel's. I received this album from Jan Eggenkamp who wanted this album to be back in the van Roekel family, see: Album 1875.
After having been in touch with a far relative (Wilhelmina Juliana (Julia) Schoeman) in South Africa we know that the above mentioned album is very likely to come from Eduarda van Roekel who married Petrus Serton, geology professor at the university of Stellenbosch. Julia sent me lots of old pictures of this branch of the family.
Rijk Ploeg sent me a cd with lots of beautiful old pictures. Among these pictures is 'wooden shoes picture' which is well-known on the Veluwe.
Most pictures are of Johannes van Roekel an his numerous descendants.
On august 6-th 2010 I met Truus Overeem, a granddaughter of Grietje van Roekel. She owned a picture and a number of letters of Gijsbertje van Roekel and relatives. Gijsbertje was a sister of Grietje who emigrated with husband an children to the USA in 1913. These letters offer an intimate and sometimes heart-breaking view of life and death of Gijsbertje.
To all contributors: "Thank you very much indeed!"
Please continue to
send me
more corrections and additions, old family pictures and stories.
---
The Name 'Van Roekel'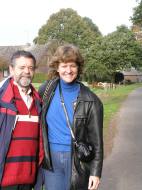 The name originates from a small hamlet in the municipality of Ede (on the south west side of the Veluwe which is part of Gelderland, one of the provinces of the Netherlands). In november 2006
Karen
,
Gwen
and
Gijs
van Roekel visited Roekel, on the picture Karen and Gijs standing in Roekel.
Long ago someone came from Roekel and was named 'van Roekel' (van=from). The name of the hamlet Roekel is derived from 'roek', a black kind of crow, and 'lo' meaning forest, so a forest in which lives a swarm of black birds. In Holland more of these rook forests exist.
The oldest mention is the one of Johan van Rokel who lives in Rokel in 1328. From 1353 to 1446 there are a few mentions of van Roekel's in Arnhem (a town at the southern border of the Veluwe). Also in Wageningen from 1714 on van Roekel's occur.
Most of the now living van Roekel's are, as far as we know at the moment, descendants of Willem Dercksen (van Roekel) of Bennekom. And there are lots of them!
Not long ago, october 2006, I got a message pointing to the fact that in a certain branch of the family a story about the origin of the van Roekel family has been handed over from father to son for a long time. According to this story the van Roekel family descends from
Jan de Bakker
, the first martyr of Holland.
---
Coat of Arms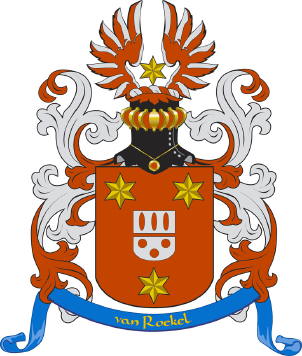 In the book "De Familie van Roekel" [
GR
] two
coats of arms
are described and pictured. The first coat of arms comes from the collection Posthumus. Nothing is known about the origin and the originator of this coat of arms and it is not officially registered. Also nothing is known about meaning of this coat of arms. Based on the description
John Herbert Van Roekel
commisioned a professional graphic artist to create the beautiful picture of this coat of arms shown here.
---
Family Pages
This genealogy is composed of family pages with husband, wife, marriage(s), children and further comments. A click on father or mother normally brings you one generation backward, to the page where they are a child themselves. A click on a child brings you one generation forward, to the page where it acts as a parent. In this way you can navigate from family page to family page.
On each page you will always find links to this introduction, the list of names and the list of sources. On some pages you will also find links to pages containing larger topics.
---
Overviews
The most important overviews in this genealogy are:
In the early generations almost everything is based upon the old baptism-, member-, marriage- and burial books that were kept by the church. These books were kept until about 1810. All later information comes mainly from the internet and other sources. ATTENTION: This means that many dates after 1900 are estimated and families are often incomplete. The van Roekel's of Bennekom and Wageningen are possibly related and might have a common forefather who cam from Arnhem. For the time being this is speculation. The same holds for Jan Jansen van Roekel and Willem Dercksen.
---
Finding Persons
You can find persons in the alphabetical list of names. This
list of names
is ordered on last name, first name and birth-year. A click on the birth year brings you to the family page where the name occurs.
You might also use one of the overviews mentioned above.
Considerable amounts of data can be found about families that are related to the van Roekel family. The oldest known members of some of these families are:
---
Emigration
A number of family members emigrated to the USA. The book 'A History of Sioux Center' [HSC] contains 'family histories' of some of these emigrants and their descendants. These family histories are added (with permission) to the concerning family pages.
See:
Family Histories
---
Sources
On the family pages you will find citations from sources of information upon which this genealogy is based. You will find the source in the
list of sources
. Many people send corrections and additions via email. These individual sources are acknowledged on the family pages. The numbers of official acts found with the help of
WieWasWie
are added to the text on the family pages between brackets.
---
Short Dictionary
The family pages are in the Dutch language, some of the remarks and sources are (partly) translated in English. Look out, Dutch dates have the general format dd-mm-yyyy, the day comes first! The following list of terms might help:
begraven = buried
broer = brother
bronnen = sources
geboren = born
gedoopt = baptized
inleiding = introduction
kind = child
lidmaat = full member of the church
man = husband
moeder = mother
naamlijst = list of names
opmerkingen = remarks
overleden = died
trouwt = marries
vader = father
vrouw = wife
zus = sister
---
Copyright, Privacy and Disclaimer
NB 1: You may copy information from this genealogy with reference to its source,
for private non-commercial usage only
.
NB 2: This genalogy may contain data about living persons, in most cases with persmission. Upon any objection against the publishing of some or all data about yourself, these data will be removed immediately.
NB 3: This genealogy has been set up with care and as much acknowledgements as possible, the author can not, in any possible case, be held responsible for the consequences of its usage by others.
If you are having any questions, please send an
email
---
© Gijs van Roekel, Maarn 2005